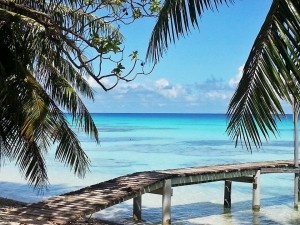 Fakarava, an atoll in the Tuamotu archipelago, is known around the world for scuba diving.
Since 1977, Fakarava is one of seven atolls classified Biosphere Reserve by UNESCO.
This atoll 60 km long and 21 km maximum width is 450 miles northeast of Tahiti. The land area of 16 km2 and the lagoon is 1121 km2 accessible by two passes :
Garuae (north), the biggest changes from French Polynesia. 0.85 mile-wide (1,600 m)
Tumakohua, also known Tetamanu (south)
[/ arrow_list]
From a geological point of view, the coral atoll is the outgrowth (150 meters) from the top of a very small submarine volcanic mountain also named Fakarava, which measures 1,170 yards from the ocean floor, formed there was between 53.7 and 59.6 million years ago.
The main village is Rotoava, northeast, and in 2012 there was about 800 people, mainly distributed around the village.
The clear waters are home to many of Fakarava mutlicolores corals and all the fish Tuamotu as grouper, grouper, barracuda, eagle rays, manta rays, hammerhead sharks, tiger sharks, pelagic sharks, black tip sharks, nurse sharks, turtles and dolphins . Depending on the season you can also admire the whales.
The atoll also hosts an endemic population Knights Tuamotu.